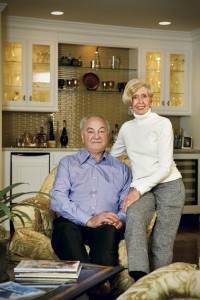 Maj. Gen. Stanhope Spears dedicated more than 51 years of service to the National Guard, of which the final 16 were as South Carolina's Adjutant General. Dot, his wife of 49 years, was by his side during his travels. When Stan retired in 2010, he and Dot decided to put some of their newfound free time into renovating their Spring Valley home.
Dot and Stan realized that the house just didn't suit their needs any longer. Dot determined that she no longer liked the layout of the house, the colors, or even the furniture. "We've entertained Army officials and ambassadors here, but we decided we needed a change," Stan says.
The Spearses had renovated the home a couple of times before, but they had never worked with a professional designer – a major factor in why Dot no longer liked its interior. "I began to notice that things just didn't look good and didn't fit well in the rooms."
Fortunately, the Spearses had met interior designer Steven Ford at a social occasion, and Steven also happens to live nearby. "We had been talking about doing something for a while," says Stan, "so we began discussing with Steven what we could do. Best decision we ever made."
Steven's first task was to spend time with the Spearses, learning more about how they wanted to be able to live in their home. "We talked about how the house was used," says Steven, "and they were very open to ideas and recommendations. When clients allow you to do that, you end up with a great space." Seventies-era homes are notorious for lots of walls and poor flow from room to room. "I wanted something more open that would let people move freely throughout the living areas," says Dot. Steven's goal was to give the Spearses what they wanted – a floor plan that would open up their house and make it more comfortable and easy to move about.
The Spearses had built an addition to the house during a previous renovation, made of brick and featuring brick flooring, with walls of windows incorporated on two sides. One wall of windows offered a view into the wooded area behind their home, something they very much enjoyed. "What I didn't like so much was the view from the side of the house," says Stan. "It was really only a view to the neighbor's house."
In addition, the kitchen was outdated, the dining room was the smallest room in the house, and the living room was just a long, skinny space separated from the rest of the house. Dot says, "I just didn't like any of it."
The 2,700 feet that they hired contractor Pete McManus to renovate was nearly 85 percent of the lower level of their home. Because it would take some time to finish the work, the Spearses actually moved out of the house for about five months. "We stayed with a neighbor," Dot says, "and I would come over to change out clothes every so often."
The time spent to renovate their house would be well worth it in the Spearses' eyes. "Our previous renovations had been horrible experiences," says Dot. "But I am happy with what we did this time."
The kitchen, completely gutted and reconfigured, now has a new central island and new cabinetry in a paint and glaze finish. Lighted glass cabinetry provides display space for many of the Spearses' collectible silver pieces. Matching panels over the refrigerator help it to blend into the cabinetry. A professional Thermador range and a microwave drawer add to the modern conveniences.
Because Stan needed space for the many collectibles he has received throughout his military career, Steven recommended changing the much-too-small dining room into Stan's personal office. The former den became the new dining room, featuring a beautiful round mahogany table and a matching sideboard.
To allow for more openness, the entrance to the kitchen was widened to match that of the living room. All the rooms now flow into the addition, which Steven visually broke into three separate sections by placement of furniture. A sofa and comfortable chairs in lightly colored fabrics create an inviting space for relaxing in the entertainment area. A breakfast area offers a spot for casual dining, and a third area provides seating near the expanded wet bar, where a small closet was converted into a wine rack.
The wall of windows that faced the neighbor's house was converted into a wall of built-in cabinetry that houses ample storage space as well as a mounted television and sound system. The design incorporates angled spaces on each end, preventing any obstruction of the wall of windows that remains, and adding visual interest as well.
The old brick floor is now covered with hardwood flooring, which also runs throughout the house. The brick walls and columns were covered in sheetrock and painted, helping to pull the rooms together into a singular open space.
The color palette for the house is varying shades of yellow. "I never thought I'd live in a house with so much yellow," says Stan. "We have five different shades of yellow on the walls, and I love it."
Colors are tied together throughout the house, from the glass mosaic tile in the kitchen to the faux finishes on the walls by Georgia Lake. The Spearses worked with Robb Winde on the cabinets in the kitchen and selected a light color granite for the counters and wet bar. "We looked everywhere and finally found three slabs at a company in Charlotte," recalls Dot.
Dot was also pleasantly surprised that Steven was able to reuse much of their existing furniture. "I'm not one who gets attached to things," she says. "I would have tossed it. I just didn't visualize it the way he did." Steven indeed brought new life to several pieces, including bamboo style chairs that he painted black and recovered. Two chairs from the living room also found new life after being recovered, and a glass table has a new base for a totally new look.
Given that their initial experiences with remodeling were challenging, Stan and Dot heartily agree that their decision to use a professional designer is what made this renovation much more enjoyable experience. "Steven sat down with us and took time to find out what we liked, what we wanted," says Stan. "This was a team project."
"When we first met, Steven walked through the house with me and asked me what I liked. I said I didn't like anything," laughs Dot. "He would bring colors and fabrics to show me or tell me that we could look for more. And the funny thing is that my favorite would inevitably be his favorite!"
While the Spearses hope to do more traveling over the next several years, they know that they'll enjoy the time they spend in their 'new' house. "It really does feel like a new home," says Stan, who simply smiles when Dot chimes in, "And the master suite is next."
– Columbia Metropolitan Magazine, January/February 2013 Edition