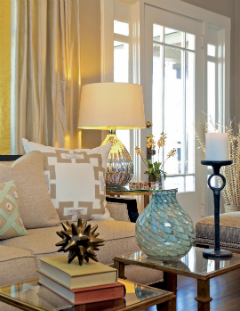 "I think color is going to be really important this spring," said Steven Ford, reflecting on the recent markets he's attended. "I saw lots of orange and turquoise, in addition to purple, and they'll be best used
sparingly paired with variations of gray sofas and walls. In addition, I found reclaimed woods also used in small doses, such as consoles, or spot tables that are just large enough to hold a drink."
With 25 years in design, the Columbia native has a personal sense of style that leans toward comfortable elegance – and he's worked with clients throughout the Carolinas and from coast to coast.
"My job is to guide the client through the process and help them develop their own taste," he explained. "We introduce items and colors and mix them in with patterns they may not have considered." There is a showroom floor, but the company isn't a retailer in the traditional sense. "We collect for each individual design," he explained.
First, Ford gets to know the person, family, lifestyle and all of the elements that are reflected in a home. Then, he develops the style that will work, perhaps incorporating French or English antiques to augment existing furniture. "Southerners in general don't like primitive or early American looks," he shared. "They do appreciate their heirloom pieces, which we can update with a mix of transitional sofas, resulting in a layered, collected look."
He advocates eliminating clutter. "We want our clients to be surrounded with items they have collected, or that they simply love," he said, "not a bunch of stuff. A purchase that fills in the space makes an interesting home."
He pays a bit of attention to Feng Shui, but suggests that many of the guiding principles are simply common sense, such as surrounding yourself with meaningful possessions – collected, not decorated.
In terms of plants, "I give them a spa day once a week," he laughs, adding, "There's nothing worse than dead plants around the house, so I put them on a schedule year round."
Ford approaches his own life in the same way he does decorating for his clients – with organization, scheduling, and a plan. "People spend their lives looking for things and it's such a waste of time. Rather, design the rooms for beauty, functionality and organization and put items in their allotted space. Storage, positioning, it all works together to make the home feel relaxing, comfortable and rejuvenating."
He gives his clients beautiful opportunities to stay organized as well as find the perfect spot to showcase their treasures and he's done it in some pretty unusual ways. "I've designed a travel bus as a home away from home for a singer, and I've decorated the interior of a 150 ft sailing yacht for a client who wanted to entertain and use her crystal and good china on board – now those were jobs requiring serious organization."
Steven's Tips for Spring – Clear the clutter. Organize what remains. Get into the habit of putting items in their place.
– Columbia Living Magazine, March/April 2012 Edition